As you might tried, there are few translation plugins to make your WordPress working with many languages. Some of them are quite useful but not at all. In this article, I will share my experience in converting WordPress website into a WordPress Multilingual website.
Why I choose WPML. Why and bought Multilingual CMS Lifetime Licence long ago. How this helped me a lot and return the investment hundreds of times. Identically as me before few years, you might be in the same situation right now full with many questions and concerns in choosing the best multilingual plugin for our WordPress website.
An article about how to make WordPress Multilingual with 3-rd party plugins.
Contents
How to make WordPress Multilingual?
WordPress as a CMS platform which supports many languages. The biggest disadvantage is the lack of multilingual options. WordPress Multilingual functionality can be achieved with external plugins. Hopefully, there are some free and paid plugins that can help you extend the WordPress language functionality for 5 mins.
Activating one plugin like the free Loco Translate, Polylang, qTranslate-X, xili-language or Sublanguage plugins are installable on standalone WordPress sites, or for Multisite you can try Multisite Language Switcher, Zanto or Multilingual Press or purchase WPML.
Don't want to waste time to ready, check the button below and decide by your self.
What is the difference between multilingual plugins?
Each plugin comes with a different way to enable WordPress Multilingual functionality. The major differences are in the way you can translate the posts (articles, pages, custom post types), text strings inside themes and plugins. On the other side, plugins divide in automatic, semi-automatic or human translation depending on how translation is made.
The main differences:
Visually one post to keep all the language translations in.
Different post IDs keeps language translation of the primary post.
Automatic, semi-automatic or human translation
One website per language with multisite network (multiple instances of WordPress)
Translations on the generated page instead of using a post context.
What is WPML?
WPML is a plugin for WordPress. Simply put, plugins extend the functionality of the basic WordPress CMS. In this case, WPML makes WordPress Multilingual. The plugin lets authors write content in different languages and translate content. It also includes advanced features for translation management and an interface for professional content translation. The plugins require no technical or programming skills. Site admins can install it and turn their site multilingual, without any coding. WPML includes a complete API, for integrating with other plugins and translation systems. This way, developers can easily use WPML and turn their products into multilingual. WPML is a product of OnTheGoSystems, a global company with staff from six continents.
Why I chose WPML to make my WordPress Multilingual websites?
If you are searching for a fast answer you can go to Cons and Pros!
Back in the past, I started working with WordPress in 2006 – 2007. My first need of multilingual support came with the request of one client in 2008. He wanted to have 2 language versions of his website. I started researching for free plugins to accomplish the goal. Then I choose qTranslate. At that moment I liked how all the language versions are in the same edit post page. So, I don't need to open another tab for other languages. Later I found the lack of options in it. I tried the next plugin. And next plugin. In reality, at that moment there were not so many plugins.
Once I had a well-paid project so I decided to give a try to WPML Blog version (it was cheap enough – 29$). Actually, I didn't find it useful enough. Some of the features I need were included into WPML CSM version. So, I top up.
The calculations:
For instance, first I gave 29$ for Multilingual Blog. My subscription expired and I forgot to renew for 15$. Forthwith with my next project, I jumped to Multilingual CMS for 79$. At this year of subscription, I was totally convinced to subscribe forever for this plugin. So, I purchased an upgrade from Multilingual Blog to Multilingual CMS Lifetime for 166$ later in the current subscription period.
As a result in total I spent 29 + 79 + 166 = 274$ for something with total price 195$ for lifetime. If I was smart enough to buy lifetime license I could save 79$ from my extra payments.
How WPML works?
WPML has been powering multilingual WordPress sites since 2009 (back when WordPress was in version 2.8). Over ½ million commercial WordPress sites, from simple blogs to large enterprise sites, rely on WPML. When you install WPML, you will discover that it includes everything that you need. This is because WPML's features are the result of cumulative experience gained from years of working.
Moreover, using WMPL for the first time I found out the total difference from qTranslate, and I like it more. In fact, I was surprised by the ease of use. I liked the language switcher in the backend. It was showing me the current language at every moment. Furthermore, was easy to create a language version or duplicate of the current post.
Fast language setup
With 2 min with few clicks, you will have fully working multilingual website.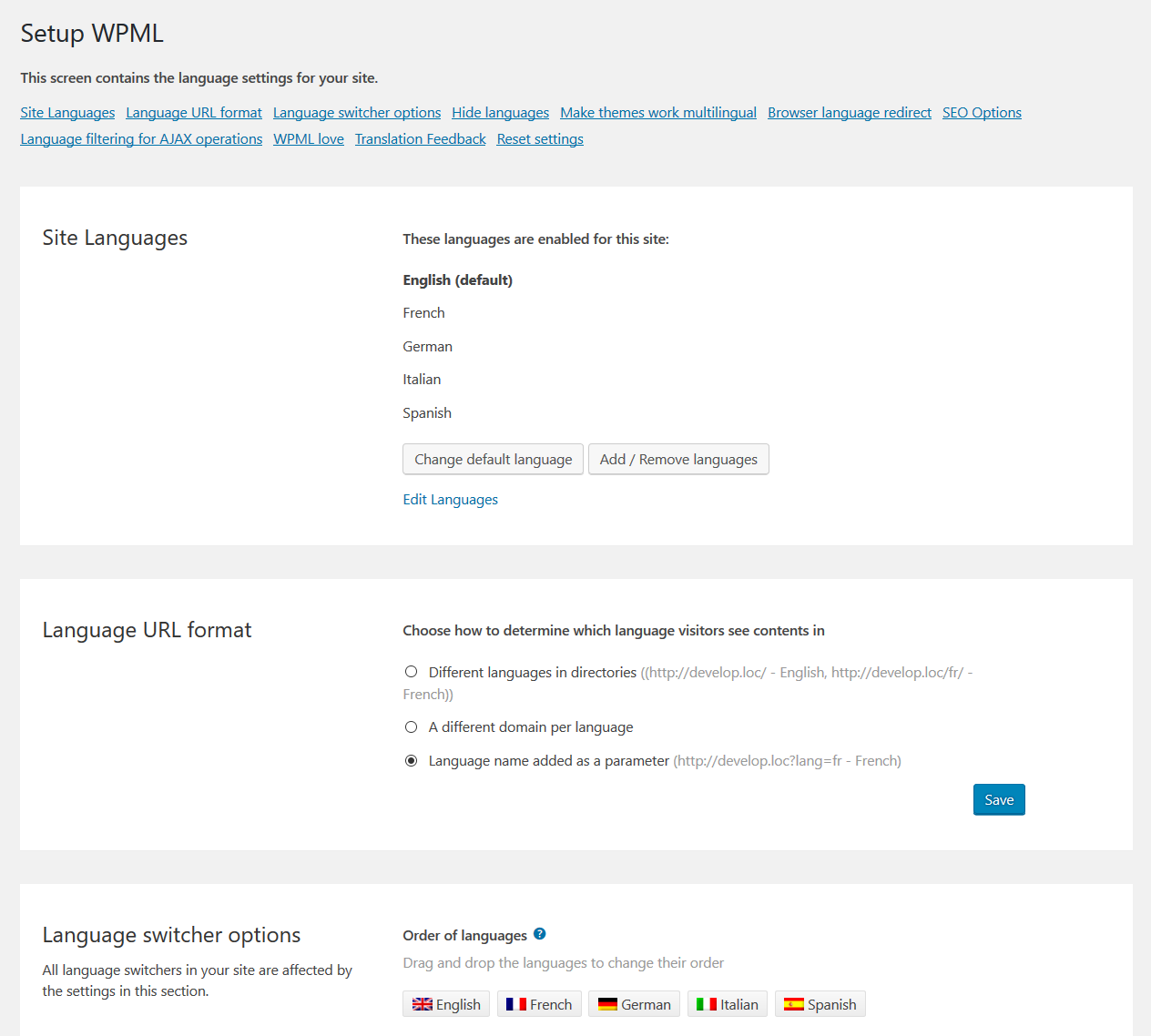 Available in both Multilingual Blog & Multilingual CMS versions.
Orienting into the interface
Separated translations in different posts do not make an interface more difficult to navigate and use.
For example, into the page list table (/wp-admin/edit.php) there were links to switch between viewing: English (4), Spanish (3), French (2). So, I had fast insight about the exact number of articles per language. Bolded Language was current.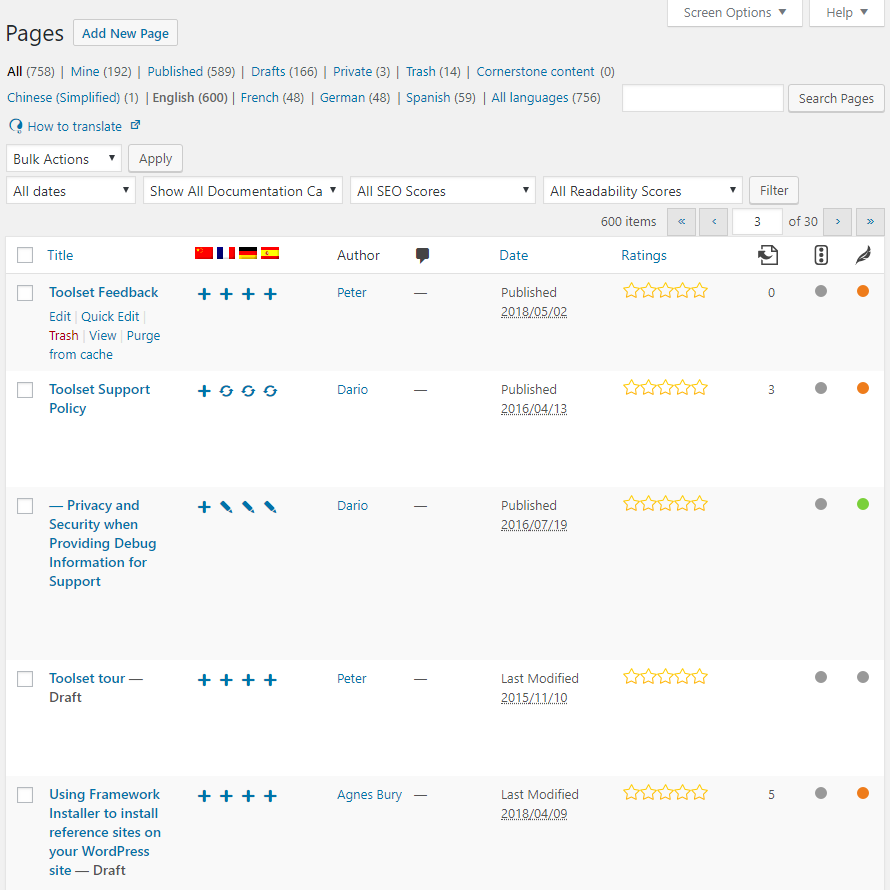 Adding and correct post translations
Also, next to the title column was located the column with language flags. Untranslated languages have + plus icon saying me "add a translation, please".
Articles with differences in language versions, as missing paragraphs, images and etc., were indicated with an arrow directing in clock side.
All good translations had a pencil icon.
Duplicating posts
When you are inside post editor (/wp-admin/post.php?post=id&action=edit) can easily duplicate the original content to other available languages. The good part: until you are not done with your primary article even if you already duplicate every language is synchronised with the primary until you make the language independent and start editing it.
Another plus for WPML was his AJAX functionality. So it saving me time.
Language switcher customization
A great benefit for me as theme designer and developer was the ability to customise and decide where in my themes to put the language switcher. Switcher could be a classic drop-down, mobile hover dropdown, simple horizontal or vertical ul > li list. Each language could be presented as a country flag only, with the native language name or translated name in current language.
Translation Management
WPML comes with excellent translation management. You can turn ordinary WordPress users into Translators. Translators can access only specific translation jobs which Editors assign to them.
Alternatively, you can connect WPML's powerful translation management with a translation service of your choice for professional translation of your site contents.
Available in the Multilingual CMS version only.
Translation of Theme and Plugin Texts
WPML frees you from the hassle of editing PO files and uploading MO files. You can translate texts in other plugins and in Admin screens directly from the String Translation interface. You'll see where the texts come from both in the code and on the site and translate right from within the WordPress Admin panel.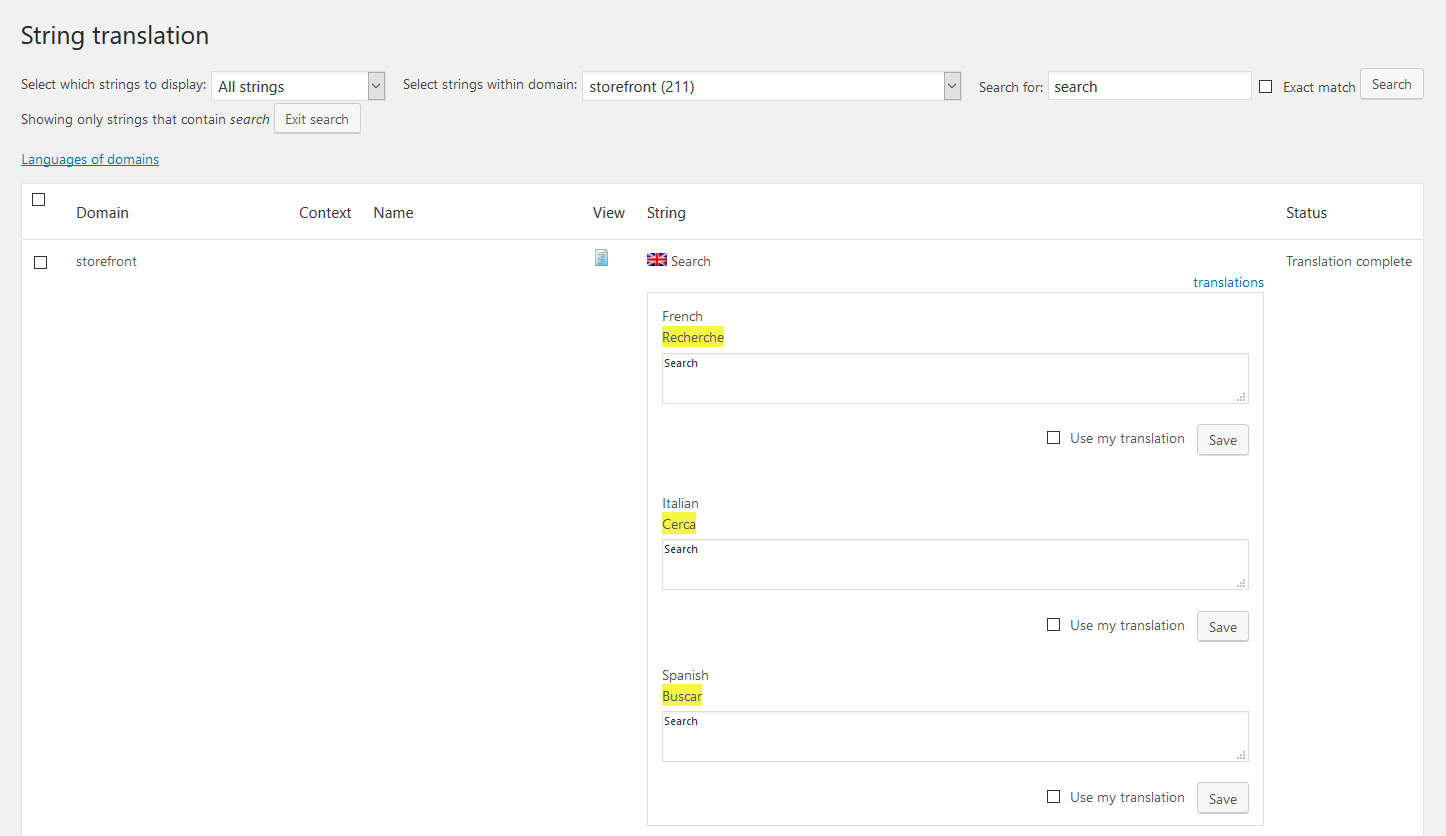 Available in the Multilingual CMS version only.
Multilingual E-Commerce
WPML lets you easily build and run multilingual e-commerce sites with WooCommerce (using WooCommerce Multilingual). Enjoy complete support for simple and variable products, related products, sales and promotions and everything else that WooCommerce offers.
Running a multilingual e-commerce site with WPML is simple. WPML shows you which texts need translation and builds the complete translated store for you.
Visitors will enjoy а fully localised purchase process, starting with the product listing, through the cart and checkout and even localised confirmation emails.
Available in the Multilingual CMS version only.
Reliable Support and Proactive Development
You will be supported from Asia-Pacific morning and ends in a US-Pacific evening for 6 days per week, 19 hours per day and in 9 languages, Monday through Saturday, year round.
When you buy WPML, you buy the peace of mind, knowing that any question you have is answered and every problem you encounter is resolved. The development team works to ensure smooth operation for your site. They release updates for echo new WordPress versions. OnTheGoSystems work with other plugin and theme authors to ensure compatibility. They are encountering each security issue.
You can find answers to your questions in the button below.
Cons and Pros about WPML plugin
Cons
Easy to understand how it works
Frequent updates and bug fixes
Good support and forum
Integrated with most premium themes
Works with multisite networks (Each site has different language settings)
Cheap basic version (WMPL Blog)
Pros
Paid plugin (maybe you won't pay)
A bit heavier for larger sites (caching helps for this)
Large database with hundreds of translated rows
A bit slower for servers with older software versions
Why I choose and paid for Multilingual CMS Lifetime?
Suddenly, nowadays this option is discontinued for the future clients of WMPL.
Because is a huge, huge saving with every next year I have it. It is the best-spent money for software tool I paid once forever. It's like investing in a pension plan.
Now and forever I will have free updates year after year.
In general, I already saw how OnTheGoSystems team is improving the plugin with each next version.
You can count on good support.
Most of the themes sold online are integrated with WPML by default. Normally, when I can't translate something is because of an incompatibility problem of the theme or plugins I use.
I like it.
Conclusion
It looks like an easy job to install any WordPress Multilingual plugin and start translating. But you will be surprised how many things are missing in most of them. Using WPML will give you a freedom to do anything with your WordPress, themes and plugins.
Why you need to pay 195$ for a plugin… Of course, you can give a try to every plugin you want, but don't waste money and hassle. There is no need to test every plugin on the market like me. Don't be stupid like me, invest directly in lifetime licence because is the cheapest most secure way to have total WordPress Multilingual support forever.
Decision time
I hope you listen to my advice.
Don't waste more time.